The Columbus Guitar Society, founded by a dedicated group of amateur classical guitarists in 1992, has grown to be one of the country's most successful guitar societies. Under the leadership of Artistic Director, Eugene Braig, the CGS is the only organization to offer comprehensive programming for the classical guitar in the Central Ohio region. CGS brings a variety of activities to the public:
1. A professional concert series featuring world-renowned international stars. The season offers a handful of amazing concerts between October and May. Click here for details.
2. The Members' Ensemble prepares two concerts each season. Click here for details.
3. Amateur players meet up and entertain the cafe crowd at 1 p.m. on the third Saturday of every month at the Starbuck's Coffee, 2450 East Main Street, in Bexley.
Click here for details.
Our Next Event:
OUR ANNUAL PRE-SEASON FUND-RAISER,
"A JUST-POST-SUMMER AFTERNOON OF GUITAR MUSIC"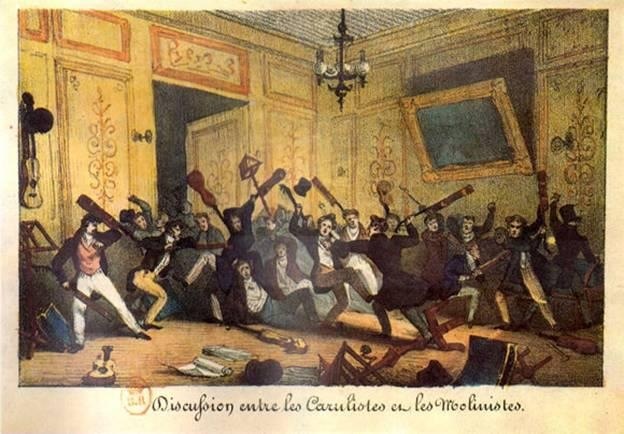 with the members' ensemble of the Columbus Guitar Society
Waverly Wilkerson, Director
3:00 pm, Sunday, 22 September 2019 at
Capital University's Huntington Recital Hall, Bexley
Only $5 general admission (free with Cap.U. ID)!
ANNOUNCING THE 2019-2020 CONCERT SERIES:
Raphael Feuillatre, Guitar Foundation of America champion
Capital University, Huntington Recital Hall
8:00 pm, Saturday, 12 October 2019
Parisian virtuoso Raphael Feuillatre studied at the prestigious Conservatoire National Supérieur de Musique de Paris (initially with renowned composer–pedagogue, Roland Dyens), receiving his diploma "with highest honors." His studies continue at the Conservatoire à Rayonnement Régional de Nice. His credentials as laureate of half a dozen international competitions include first prizes at Fontenay-sous-Bois, France; José Tomás Villa de Petrer, Spain; and, of course, the Guitar Foundation of America. Can you imagine a more exciting way to open our 29th guest-artist series on 12 October 2019?!
www.guitarfoundation.org
AronBerkner Duo, flute and guitar
Capital University, Huntington Recital Hall
8:00 pm, Saturday, 18 January 2020
Described by the New York Times as "cultivated and musical," Stephen Aron has established himself at the center of the American classical guitar scene. He has released seven CDs to critical acclaim and directs the Oberlin College and Conservatory's guitar program. Flutist Jane Berkner has been on the Ohio Touring Artist's Roster for more than 25 years and holds faculty positions at Ashland University and the University of Akron. Together, they bring us the sonorous artistry of The AronBerkner Duo on 18 January 2020.
www.aronberknerduo.com
The Quaternaglia Guitar Quartet
Capital University, Huntington Recital Hall
8:00 pm, Saturday, 29 February 2020
Spanning more than a quarter century, Brazil's Quaternaglia Guitar Quartet (QGQ)—Sidney Molina, Fabio Ramazzina, Chrystian Dozza, and Thiago Abdalla—is acclaimed as one of the top ensembles of its kind and is recognized for its artistic excellence and its significant contributions to the expansion of the repertoire. The QGQ has established a wide canon of ambitious arrangements and original works through collaborations with currently prominent composers. Their nine CDs are perhaps best described as "fantastic," as their return to our stage will be on 29 February 2020.
quaternaglia.com.br
Capital University, Huntington Recital Hall
8:00 pm, Saturday, 4 April 2020
Both as soloist and as a guest of numerous orchestras and early-music ensembles, David Jacques has appeared in more than 3,500 performances in 35 countries and on more than 50 recordings. Amazing! Notably, three of his CDs have won the Conseil Québécois de la Musique's Prix Opus. He also has one of the most impressive historic-guitar collections of which I'm aware. David will close our season on 4 April 2020 with a program of Baroque music delivered using an original guitar by A. Voboam built in the 1660s! Wow.
www.david-jacques.com
All concerts will be in Capital University's Huntington Recital Hall
Tickets are $20 for General Admission, $15 for CGS Members and Senior Citizens, free with Capital University ID
GET 4 CONCERTS FOR THE PRICE OF 3 WHEN YOU ORDER A $60 SUBSCRIPTION FROM CAPA!
Tickets may be purchased using cash, check, or credit card at the door,
via CAPA at 614-469-0939 or

from Ticketmaster www.Ticketmaster.com
For info: www.columbusguitarsociety.org or 614-561-9204
Season tickets available from CAPA at 614-469-0939.

Individual tickets available from CAPA or www.Ticketmaster.com