The Columbus Guitar Society, founded by a dedicated group of amateur classical guitarists in 1992, has grown to be one of the country's most successful guitar societies. Under the leadership of Artistic Director, Eugene Braig, the CGS is the only organization to offer comprehensive programming for the classical guitar in the Central Ohio region. CGS brings a variety of activities to the public:
1. A professional concert series featuring world-renowned international stars. The season offers a handful of amazing concerts between October and May. Click here for details.
2. The Members' Ensemble prepares two concerts each season. Click here for details.
3. Amateur players meet up and entertain the cafe crowd at 1 p.m. on the third Saturday of every month at the Starbuck's Coffee, 2450 East Main Street, in Bexley.
Click here for details.
The University of Cincinnati College-Conservatory of Music Guitar Ensemble returns to the Columbus Guitar Society stage!
8:00 pm, Saturday, 6 November 2021 at
Capital University's Huntington Recital Hall, Bexley
Only $5 general admission at the door!
After a lengthy hiatus, we are excited to welcome the University of Cincinnati's College-Conservatory of Music (CCM) Guitar Ensemble back to the Huntington Recital Hall's stage for a pre-season fundraiser concert.  Now under the directorship of renowned guitarist, lutenist, and composer, Dr. Christopher Wilke, the CCM ensemble has always represented some of the finest up-and-coming talent in the region.  Participants in the program go on to become active professionals and concert artists across the country.  The CCM ensemble will grace us with a diverse and interesting program of guitar ensemble music and solos again this season.  And the price of admission is hard to beat!  Please plan to join us to show your support for these young artists and your own local Columbus Guitar Society!
As always, you are cordially invited!
For info: 614-561-9204
We are also delighted to announce the return of our professional guest artist series:
and
Carolyn Surrick,
lute and viola da gamba duo
Sat, Jan 8, 2022 8:00 PM – 10:00 PM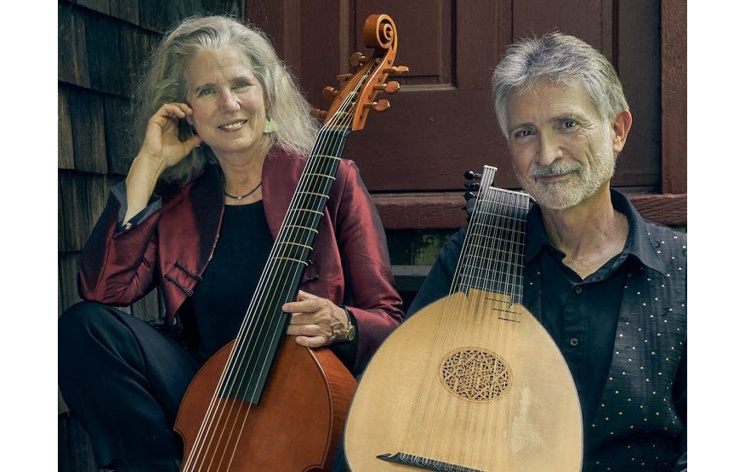 On their 2020 album, Fermi's Paradox, these two world-class instrumentalists play an exhilaratingly rich and diverse repertoire that binds together traditional Irish, English and Swedish music with pieces by J.S. Bach, John Dowland, Duane Allman and the performers themselves. In the fall of 2021 they are releasing a new holiday album, A Star in the East, featuring reimagined traditional Christmas favorites alongside new works by both McFarlane and Surrick.
Tickets are $20 for General Admission, $15 for CGS Members and Senior Citizens,, and may be purchased using cash, check, or credit card at the door, or from SimpleTix
For info: www.columbusguitarsociety.org or 614-561-9204