The Columbus Guitar Society has, since 1992, presented the only concert series in the region dedicated to promoting the art of the classical guitar. Past seasons have included such luminaries as Jason Vieaux, John Holmquist, Roland Dyens, David Tannenbaum, David Leisner, Dale Kavanagh, The Falla Trio, Quaternaglia, The Pearl-Gray Duo, Carlos Perez, Stanley Yates, and many winners of the prestigious Guitar Foundation of America Solo Artist Competition. Concerts take place in the acoustically brilliant Huntington Recital Hall at the Capital University Conservatory of Music. See Maps and Details page for directions. Tickets are available through Ticketmaster as well as for purchase (cash,check, or credit card) at the door, one hour before concert start time.
ANNOUNCING THE 2021-2022 CONCERT SERIES:
Ronn McFarlane and Carolyn Surrick,
lute and viola da gamba duo
On their 2020 album, Fermi's Paradox, these two world-class instrumentalists play an exhilaratingly rich and diverse repertoire that binds together traditional Irish, English and Swedish music with pieces by J.S. Bach, John Dowland, Duane Allman and the performers themselves. In the fall of 2021 they are releasing a new holiday album, A Star in the East, featuring reimagined traditional Christmas favorites alongside new works by both McFarlane and Surrick.
Sat, Jan 8, 2022 8:00 PM
Huntington Recital Hall, Capital University (south side of Bexley Hall)
2230 East Mound Street, Columbus, Ohio, 43209
Colin Davin, classical guitar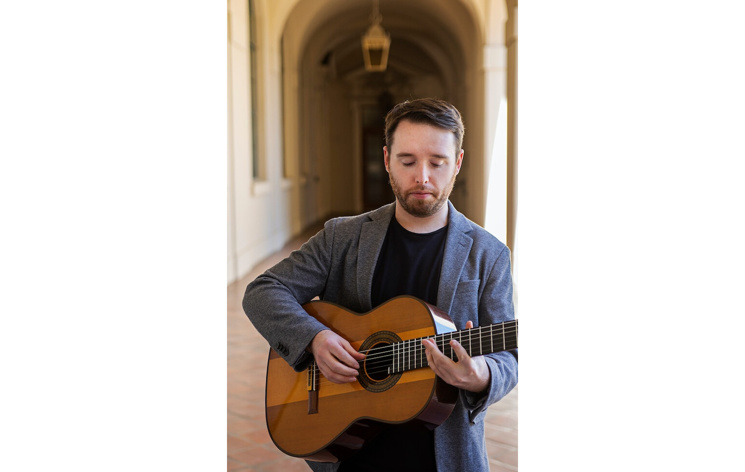 One of today's most dynamic young guitar artists, Colin Davin has performed across the world, including at Carnegie Hall, the Alhambra Palace in Granada, Spain, the Afghanistan National Institute of Music, the Fridge Fringe in Dubai, and the Paris Conservatoire.
Sat, Feb 19, 2022 8:00 PM – 10:00 PM
Huntington Recital Hall, Capital University (south side of Bexley Hall)
2230 East Mound Street, Columbus, Ohio, 43209
Virtuoso David Jacques, the Baroque and Romantic guitar
Both as soloist and as a guest of numerous orchestras and early-music ensembles, David Jacques has appeared in more than 3,500 performances in 35 countries and on more than 50 recordings.  Amazing!  Notably, three of his CDs have won the Conseil Québécois de la Musique's Prix Opus.  He also has one of the most impressive collections of historic guitars of which I'm aware (several highlighted on his last two exciting CDs, Histoires de Guitares).  David will close our season on April 23, 2022 with a program of Baroque and Romantic music delivered using original guitars by Voboam (built in the 1660s) and Torres (1887)!  Wow.
Sat, Apr 23, 2022 8:00 PM – 10:00 PM
Huntington Recital Hall, Capital University (south side of Bexley Hall)
2230 East Mound Street, Columbus, Ohio, 43209